Primary Metals
The primary metals industry presents many challenges for an effective sealing solution. Many operations require seals that can meet high temperature capabilities. Others look for a way to prevent the egress of foreign material into bearing housings. For many years, FEY has worked with primary metals companies to develop the experience and expertise necessary to achieve optimum seal designs. Even today, FEY studies equipment modification such as air/oil lubrication systems and reviews solutions to assure the best sealing effect. Fey investigates:
The number of rings required for best sealing effect
Ideal location of the sealing rings
The best material based on operating conditions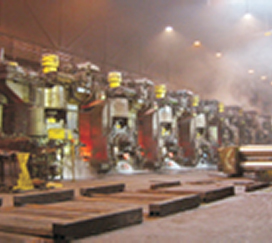 Continuous Casters
One of the most popular applications for FEY Sealing Rings is the segment rolls on continuous casters. Double wound, heat stabilized, chromium nickel stainless steel rings are used. The FEY sealing solution can endure operating temperatures that exceed to capability of elastomeric seals. Upper segment sealing requires the exclusion of scale and water in addition to retention of lubricant.

Segment Bend Rolls
Seal sets exist for either rotating shaft or rotating housing applications. Both styles are suited to retain lubricant and exclude scale and water. FEY rings are usually paired with elastomeric seals as long as operating temperatures allow their use. FEY Sealing rings are also widely used on rolls that utilize a split housed bearing at the center support. The extreme operating temperatures at the center bearing make FEY the perfect seal choice.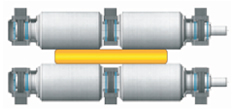 Work Run-Out Tables
FEY Rings are found on work and run-out tables. Again, the operation conditions make FEY Rings an excellent choice. Seal sets can be found on both sides of the bearing's housing. Many bearing manufacturers specify FEY ring on the units they supply. FEY Rings can be designed into most current applications that are using other seals.