Inventory Management
Fey-NA's inventory management system is a comprehensive and versatile system set up to handle the inventory needs of Original Equipment manufacturer and Distributor alike. Our well trained and experienced warehouse staff can maintain any inventory required by our customers and ship all orders promptly. A variety of service opportunities will make your business with us smooth, efficient, and cost effective.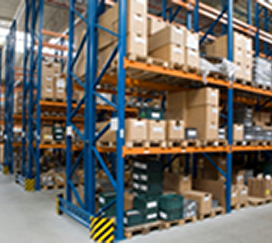 Procurement
Our inventory software allows interface options with our customer's MRP/JIT, Kanban, or evergreen systems. Our objective is to meet your production demands without interruption or line shutdown creating a seamless procurement process. Both direct link and EDI secondary party services are available.

Logistics
We closely work with distributors to keep inventory of identified or standard products on-hand for convenient purchasing. We can also coordinate blanket orders and scheduled releases as a way to keep customer costs down and maximize the purchasing power of our customers. Our software allows for our inventory management team to create custom part identifications for original equipment manufacturers.

Economic Value
Our principal location in NJ allows customers to efficiently coordinate inventory availability with production demands and receive convenient, cost effective delivery directly to facilities in North America. Numerous transportation and inventory options offer competitive pricing for both OEMs and Distributors and keep transportation and warehouse costs low.

Operations
Product is carried in locations around the globe where inventories are matched to the needs of the local customer base. Fey-NA's warehouse focuses on keeping an active on the shelf inventory geared to the applications found in North America.
Planned plant production replenishes sold product while original equipment manufacturer's requirements are on scheduled production cycles assuring product availability.