Laminar Piston Rings
Initially, FEYLaminar Piston Rings were used to seal used pistons and cylinders on internal combustion engines to improve poor compression and to reduce high oil consumption. Today FEY Lamniar Piston Rings are used successfully in combination with cast iron piston rings in both rebuilt and new engines. FEY Laminar Piston Rings are also used in hydraulic and pneumatic pistons, shock absorbers etc. In these applications, cast iron piston rings are not required. Please consult FEY engineering for sizing and feature requirements.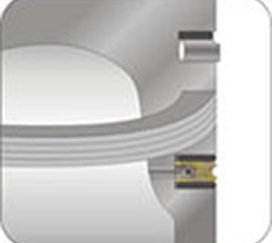 FK 2 New Pistons and Cylinders
The FK2 Series of Piston Rings are manufactured to work with or without cast iron piston rings. FK2 Rings offer many advantages in applications where physical size limits the use of cast iron rings. FEY Laminar Piston Rings are excellent choices for hydraulic and pneumatic piston seals. Laminar Rings are used to seal shock absorbers.
External Rings for Shafts
External Retaining rings are used where axial fixing is required on a shaft or housing outside diameter. FEY offers type ESW (single wound) and DSW (double wound) rings.
Run and Installation Tests
Run and installation tests, under operating conditions, must be performed in each case before standard production of our laminar rings can begin to determine whether the desired effects can be achieved.
New Application
If you are interested in having Fey rings specifically designed for your application, please fill out and submit our questionnaire.
Current Application
If you have questions about using our product in your application, please contact us and we will be happy to assist you.