FK 8 Plastic Ring Carrier Seal
Outside sealing plastic ring carrier seal units are used to seal ball and roller bearings against loss of grease and ingress of dirt or splash water. They are made from Polyamide 6. Plastic ring carrier seals are also used for vehicle axles, other wheels, pulleys, drive systems in vehicles, construction equipment, fire engines, etc.
Some ring carrier seals are equipped with an additional sealing lip which comes in contact with the bearings outer race. This is advantageous where high levels of splash water are encountered.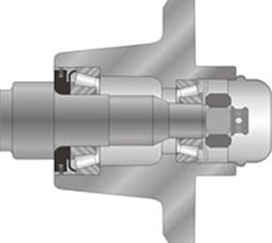 Run and Installation Tests
Run and installation tests, under operating conditions, must be performed in each case before standard production of our laminar rings can begin to determine whether the desired effects can be achieved.
New Application
If you are interested in having Fey rings specifically designed for your application, please fill out and submit our questionnaire.
Current Application
If you have questions about using our product in your application, please contact us and we will be happy to assist you.